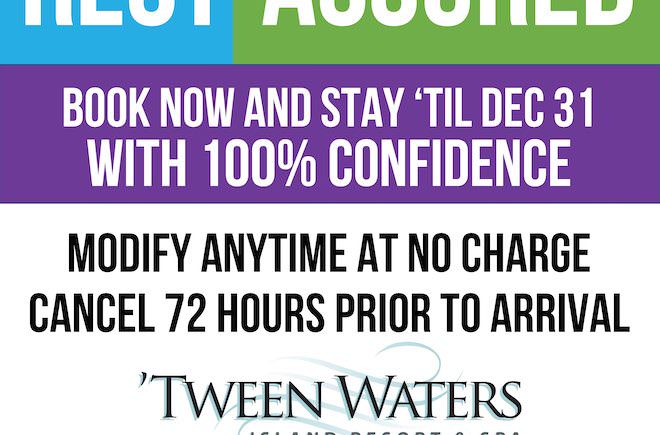 Here's some great news for those of you thinking about visiting us at Sanibel Captiva Beach Resorts — but are still a bit hesitant to commit to travel plans more than a few weeks out.
Now you can book your getaways in October, November and December — and Rest Assured that if your plans change, you'll have freedom and flexibility, with only a $35 processing fee on cancellations provided you do so no later than 72 hours prior to arrival.
Looking ahead, you can book ahead with peace of mind for:
Any mid-week or weekend getaway
The wonderful, joyous and beautiful 'Tween Waters Delightful December, with our resort aglow in more than 100,000 holiday lights
So check your calendar, visit our website here or call our friendly on-site reservationists at 800.223.5865. And Rest Assured! Valid guestrooms and 1-bedroom suites only.

Think about all the cooking networks and shows we have at our disposal right now. Clearly food great to eat, but it's also appetizing to watch too.   
Here at Old Captiva House, we recognize food as a form of art and want to highlight some of the great work our chefs do. That's why we've created a new series entitled "Chef Greg Dishes" for our very own Executive Chef Greg Nelson to show off and share his culinary expertise.  
Viewers will get an inside look at the dishes he pours his heart into, while learning a thing or two about them — whether it's how the dishes are imagined, what ingredients create their taste sensations or how guests can put their personal spin on them. Each video is bound have you jonesin' for some of your favorite Old Captiva House dishes.  
So come watch, get hungry and enjoy Chef Greg's masterpieces with us from anywhere! Be sure to follow us on Facebook here.