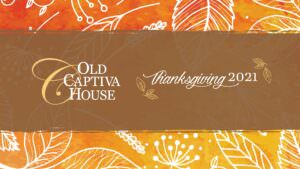 With travel plans, holiday decorations and the changing of seasons for most of the country, it's beginning to look like the best time of year.
Ah yes, the holiday season is upon us! And what better way to spend Thanksgiving than enjoying the beautiful Florida weather at The Official Beach Resort of Captiva Island? Whether it's the gorgeous Florida fall weather, relaxing Gulf breeze or a day out on the water — there's no end to the amount of fun to be had at 'Tween Waters Island Resort and Spa.
But when it comes time to gather around the table and enjoy what Thanksgiving is known for, we've got you covered there too. Our very own Old Captiva House will be hosting the Thanksgiving Day Buffet this year, and you won't want to miss it!
This year, Chef Greg has prepared a menu that will bring delicious home cooking straight to your vacation. With Candied Yams, Herb Stuffing, Classic Mashed Potatoes and, of course, Roasted Turkey, you'll enjoy Thanksgiving classics while staying in paradise.
Or, if you're looking to celebrate with an island-style dinner, our seafood display is just for you! We have our famous Hot Crab Dip, Shrimp Two ways, Scallops on Half Shell, Crab and Lobster Crusted Snapper and more!
Enjoy the best weather while celebrating Thanksgiving the best way — with good food and people you love. Guests can make reservations by clicking here or by calling us directly at 239.472.5161.