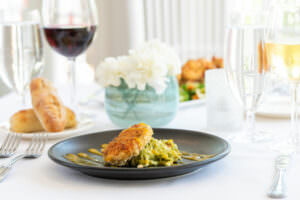 With the vast amount of travel and booking sites online, deciding which one to use can be challenging. Some will have discounts, gift cards and other perks, while others will have cheaper rates.
But which one should you use? Don't worry. We have the answer —
None of them.
That's because when you book two or more nights directly, you won't be able to find a better deal anywhere. From no resort fees, freebies and our $250-plus value Resort Rewards Coupon Book, there's no wonder why booking direct is a slam dunk.
But sometimes, it's easy to overlook some of the best amenities guests receive. One of those happens to be our dining discounts.
Tween Waters Island Resort & Spa is home to two favorite local establishments, Old Captiva House and Crow's Nest Bar & Grille. Whether it's for breakfast or dinner — you'll find what you're tastebuds desire! Old Captiva House is the spot to be if you're looking for upscale dining while keeping it casual and relaxed. You'll find dishes that pack both flavor (Cioppino) and island life (Shrimp Sausage Omelet)! You'll find an extensive list of drinks and delicious desserts, too!
Open for lunch and dinner, Crow's Nest has a comfortable atmosphere, extensive food and drink menu and great music throughout the night. Not to mention being right across the street from the beach! Be sure to stop by for a Captiva Martini before the sunset and swing by after for our Seared Island Grouper.
So next time, when you're looking to book your next vacation to paradise, remember this great deal at 'Tween Waters when you book direct!