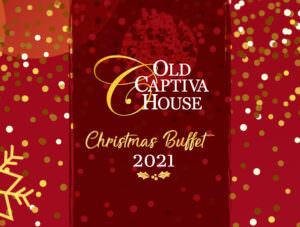 From the holiday cheer, decorations, presents, love and celebrations — there's no wonder why the holiday season is the best time of the year.
But between all the wonderful festivities, it's important to spend quality time with loved ones. That's why, at 'Tween Waters Island Resort & Spa, we've planned out the perfect spot just for that! At our Old Captiva House, of course!
This Christmas from 12pm to 8pm, we'll be dishing up some delicious eats and treats for you and your loved ones. Whether you prefer a plate of traditional Christmas food or an island paradise-themed one — there's enough options for everyone to be happy!
Let's take a look at some of our tasty choices:
For the more hearty Christmas lovers, we'll be featuring a carving station that you're going to love. Our Roasted Leg of Lamb, Prime Rib and Roasted Ham are all seasoned and glazed just perfectly. At our buffet, you'll find Orange Mango Glazed Duck Breast, Shaved Brussel Sprouts and Spaghetti Squash with freshly Roasted Tomato Sauce.
For those in search of a Captiva Christmas, we're featuring a delicious seafood display. There you'll find our famous Hot Crab Dip, Fresh Scallops on a Half Shell and Cold Smoked Scottish Salmon Platter. At the buffet, you can feast your eyes on our Tortellini with Shrimp, Crab and Lobster Crusted Salmon and our classic Shrimp Bisque.
So celebrate this holiday season at the best restaurant on Captiva! Reservations can be made by clicking here or by calling us directly at 239.472.5161 ext. 3.